STACARAVANS
Een comfortabele vakantie in de openlucht
We have a large choice of comfortable accommodations.

Our accommodations are for 2 to 8 persons :

- Petit Chalet-Studio (18m²) * 2 persons

- 1 bedroom-mobil-home (18m²) * 2 persons

- Cottage Soléo 2 (23.80m²) * 4 persons

- 2 bedroom-mobil-home (29m²) * 2, 4 ou 6 persons

- 3 bedroom-mobil-home (35.70m²) * 8 persons

- Coco Sweet (16m²) * up to 4 persons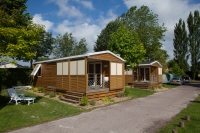 There are equipped with a kitchen (included a refrigerator, a microwave, a coffee machine, a kettle, and dishes), a dining area, a shower-room with washbasin, and a WC.
You benefit from TV and sheets linen free of charge.


Coco Sweet is a new at the same time functional and cosy, playful and cosy concept, quite equipped on 16 m2. Coco Sweet, it is a new way of living its stays in the campsite(camping), particularly attractive and affordable to live up to 4 people. A marital bedroom, 1 twin bedroom, fan heating, a kitchen area with microwaves, refrigerator and the electricity, a terrace with canopy.

To take advantage of the sun, on your terrace (covered or not – depending kind of accommodation), you will find a garden furniture and a sunbathing.

A baby chair or baby bed are available, for your stay if you ask when you book and according availabilities.